Martha Kemper
7/10/2012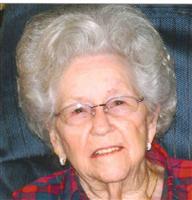 Sister Martha Kemper passed from this life on July 10, 2012. Like Martha, the sister of Lazarus, our sister Martha made the great confession about the Lord Jesus: "Yes, Lord; I have believed that You are the Christ, the Son of God, even He who comes into the world" (John 11:27). She will be greatly missed, but her family and the members of Creekview rejoice that she is in the comfort of God.
The following is her obituary:
Martha Kemper age 97 of Gallatin passed away Tuesday, July 10, 2012. Graveside Service will be Thursday, July 12th at 10:00 a.m. at Gallatin Cemetery with Evangelist Stacey Durham officiating. Pallbearers will be Tommy Kemper, Wayne Kemper, Danny Kemper, J. T. Kemper, Kaylor Kemper, Barrett DeVault, Joe Neil Floyd, Jr. and Tracy Lamberth. Visitation will be Wednesday, July 11th from 2:00-8:00 p.m. Mrs. Kemper was born April 24, 1915 in Bethpage, TN daughter of the late John and Martha Shrum Hutchison. In addition to her parents, she is preceded in death by husband, James Kemper; sons, Thomas Kemper, Sr. and Edgar Harold Kemper; daughter, Dorothy Reid; brothers, Libby Lee Hutchison, Ben Hutchison and Lindy Hutchison; sisters, Georgia Gregory, Stella McCullough, Mai Brevard, Mary Lou Wright and Katherine Curter; grandson, James Harold McCurtry and great grandson, Grayson Wayne Kemper. She is survived by daughters, Shirley Smith, Martha "Susie" Dixon (Ronald) of Gallatin and Sara Lamberth (Terry) of Hendersonville; sister, Ruby Zipper of Hendersonville; ten grandchildren; twelve great grandchildren and nine great-great grandchildren. Online condolences may be submitted at familyheritagefh.com Family Heritage Funeral Home in charge or arrangements.


Send me a reminder

Add this to my calendar