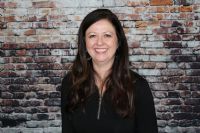 Dawn Shrull, Church Secretary

(270) 586-4315 ext. 201
Send a message
Dawn
serves as one of our church secretaries. She started in the office in January 2014. She is married to her husband Jeff, who serves as an elder here at the church and oversees missions and various other programs. They have two children - Paige, who lives in Cincinnati with her husband John David - and Rachel, who lives in Franklin with her husband, Wes.
---
Calendar
8/1/2020
8:30AM - 10:00AM Simpson County Food Bank
8/2/2020
10:20AM - 11:30AM Facebook LIVE!
---
10:30AM - 11:30AM FACEBOOK LIVE ONLY (NO INPERSON GATHERINGS)
---
12:30PM - 2:00PM Cummings/Fleming Drive By Shower
---
7:00PM - 8:00PM Garden Spot Church Challenge

There are no events on this day

8/4/2020
7:00PM - 10:00PM Back To School Bash Fundraiser

8/5/2020
6:30PM - 7:30PM Wednesday Speaker Series

8/6/2020
10:00AM - 12:00PM Ambassadors

There are no events on this day

There are no events on this day

8/9/2020
10:20AM - 11:30AM Facebook LIVE!

There are no events on this day

There are no events on this day

8/12/2020
6:30PM - 7:30PM Wednesday Speaker Series

There are no events on this day

There are no events on this day

There are no events on this day

8/16/2020
10:20AM - 11:30AM Facebook LIVE!

There are no events on this day

There are no events on this day

8/19/2020
8:30AM - 6:00PM Back to School Bash Drive-Thru @ FSHS
---
6:30PM - 7:30PM Wednesday Speaker Series

8/20/2020
8:30AM - 10:00AM MDO Parent/Student Orientation
---
10:00AM - 12:00PM Ambassadors

There are no events on this day

There are no events on this day

8/23/2020
10:20AM - 11:30AM Facebook LIVE!

There are no events on this day

8/25/2020
8:30AM - 1:30PM Mother's Day Out

8/26/2020
6:30PM - 7:30PM Wednesday Speaker Series

8/27/2020
8:30AM - 1:30PM Mother's Day Out

There are no events on this day

8/29/2020
8:30AM - 10:00AM Simpson County Food Bank

8/30/2020
10:20AM - 11:30AM Facebook LIVE!

There are no events on this day
---