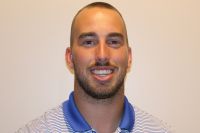 Eli Hurt, Youth & Family Minister

(270) 586-4315
Send a message
Eli has a passion for working with and developing young Christians. His work ethic and values make him an excellent Christian role model for the church and our community.

Eli is a lifetime member of our community and has been a part of the Franklin congregation since he was 12 years old in 2007. He graduated from Franklin-Simpson High School in 2014 and WKU in 2018 with a degree in Corporate and Organizational Communications. Since graduation, he has worked part-time for UPS and been the Enrichment Teacher and Chapel Leader for Foundation Christian Academy in Bowling Green.

Eli's focus and priorities will be to ensure a safe, healthy Christian environment for our youth and encourage their spiritual growth.

We would be remiss if not mentioning Eli's parents, Mike and Sandra, and his brother Colton, who are outstanding examples of a Christian family. The Hurt family is a blessing to our Franklin church family.

Eli will continue to work at his early morning UPS job, and then come to the office to be there for the kids and parents. He will also be able to be around some of our FCA kids on Fridays when he goes to conduct chapel - something he loves to do! Here at church - he plans to put some of his ideas to work right away! He also wants to get into the local school systems to interact with all of the kids and teens.

We are excited about the future of our youth program. We feel that they are in good hands for many years to come. However, Eli won't be around your children all the time and he isn't here to raise them. Eli is a source for all families here at church to help our children grow. He will need help at activities, devotionals, etc. and he will need your prayers too.

Make sure to welcome and encourage him as he undertakes this important role in our church. Keep him in your prayers, and volunteer to help in anyway you can - even if you don't have kids in the youth group! It's going to take our entire church to help our children to grow in the Lord!!

---
Calendar
11/1/2020
9:30AM - 10:15AM Sunday Bible Classes
---
10:30AM - 11:30AM Sunday Worship Service

There are no events on this day

11/3/2020
8:30AM - 1:30PM Mother's Day Out

11/4/2020
6:30PM - 7:30PM Wednesday Bible Classes

11/5/2020
8:30AM - 1:30PM Mother's Day Out
---
10:00AM - 12:00PM Ambassadors
---
7:00PM - 9:00PM MOPS/MOMS NEXT

11/6/2020
FYG Teen Fall Retreat

11/7/2020
FYG Teen Fall Retreat

11/8/2020
FYG Teen Fall Retreat
---
9:30AM - 10:15AM Sunday Bible Classes
---
10:30AM - 11:30AM Sunday Worship Service
---
12:30PM - 2:00PM Vick Drive-Thru Baby Shower

There are no events on this day

11/10/2020
8:30AM - 1:30PM Mother's Day Out

11/11/2020
6:30PM - 7:30PM Wednesday Bible Classes

11/12/2020
8:30AM - 1:30PM Mother's Day Out

There are no events on this day

There are no events on this day

11/15/2020
9:30AM - 10:15AM Sunday Bible Classes
---
10:30AM - 11:30AM Sunday Worship Service

There are no events on this day

11/17/2020
8:30AM - 1:30PM Mother's Day Out

11/18/2020
6:30PM - 7:30PM Wednesday Bible Classes

11/19/2020
8:30AM - 1:30PM Mother's Day Out
---
10:00AM - 12:00PM Ambassadors
---
7:00PM - 9:00PM MOPS/MOMS NEXT

There are no events on this day

11/21/2020
8:00AM - 10:00AM Simpson County Food Bank

11/22/2020
9:30AM - 10:15AM Sunday Bible Classes
---
10:30AM - 11:30AM Sunday Worship Service
---
1:30PM - 3:30PM Thanksgiving Boxes for the Community

There are no events on this day

There are no events on this day

There are no events on this day

There are no events on this day

There are no events on this day

There are no events on this day

11/29/2020
9:30AM - 10:15AM Sunday Bible Classes
---
10:30AM - 11:30AM Sunday Worship Service

There are no events on this day
---