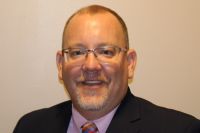 Steven Kirby, Associate Minister

270-586-4315 ext. 204
Send a message
Steven Kirby
serves as our associate minister. He will be serving the church as the minister who will oversee the day-to-day ministries of the church. He has served the church at Franklin since March 1998 as our youth and education minister before transitioning to his new role as associate minister in January 2017. He received his Master's of Arts Degree in Bible from Lipscomb University in May 2001. Steven is married to the former Denisha Jo Wallace of Park City, Kentucky. They have been married since April 2004, and they have been blessed with one child, Brooks, who was born on June 4, 2010. They live on a small farm in northern Simpson County outside of Franklin. They are committed to teaching and providing God's word to the church and the community. In his spare time, Steven enjoys spending time with his family, working around the house and farm, umpiring and coaching baseball games, watching sports, hiking, and hunting.
If you would like to contact Steven - please email him at
steven.kirby@franklinkycoc.org
---
---
Calendar
8/1/2020
8:30AM - 10:00AM Simpson County Food Bank
8/2/2020
10:20AM - 11:30AM Facebook LIVE!
---
10:30AM - 11:30AM FACEBOOK LIVE ONLY (NO INPERSON GATHERINGS)
---
12:30PM - 2:00PM Cummings/Fleming Drive By Shower
---
7:00PM - 8:00PM Garden Spot Church Challenge

There are no events on this day

8/4/2020
7:00PM - 10:00PM Back To School Bash Fundraiser

8/5/2020
6:30PM - 7:30PM Wednesday Speaker Series

8/6/2020
10:00AM - 12:00PM Ambassadors

There are no events on this day

There are no events on this day

8/9/2020
10:20AM - 11:30AM Facebook LIVE!

There are no events on this day

There are no events on this day

8/12/2020
6:30PM - 7:30PM Wednesday Speaker Series

There are no events on this day

There are no events on this day

There are no events on this day

8/16/2020
10:20AM - 11:30AM Facebook LIVE!

There are no events on this day

There are no events on this day

8/19/2020
8:30AM - 6:00PM Back to School Bash Drive-Thru @ FSHS
---
6:30PM - 7:30PM Wednesday Speaker Series

8/20/2020
8:30AM - 10:00AM MDO Parent/Student Orientation
---
10:00AM - 12:00PM Ambassadors

There are no events on this day

There are no events on this day

8/23/2020
10:20AM - 11:30AM Facebook LIVE!

There are no events on this day

8/25/2020
8:30AM - 1:30PM Mother's Day Out

8/26/2020
6:30PM - 7:30PM Wednesday Speaker Series

8/27/2020
8:30AM - 1:30PM Mother's Day Out

There are no events on this day

8/29/2020
8:30AM - 10:00AM Simpson County Food Bank

8/30/2020
10:20AM - 11:30AM Facebook LIVE!

There are no events on this day
---