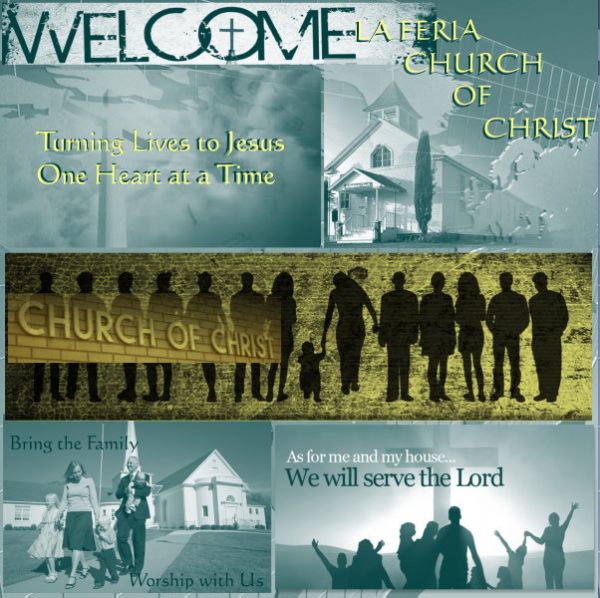 WELCOME




W

e welcome and invite you to come worship with us, to experience the love of God with God's family. Our mission is to

Rescue

, to

Encourage

, to

Empower

, to

Embrace

, to

Comfort

, and to

Lead

. The church of Christ in La Feria is a

non-incorporated independent church

. We are God's children joyously involved in God's purpose as our mission is to

GO

:

We move outside comfort parameters: reach out with the message of hope and Acceptance for Jesus Christ.

We

CONNECT

:

We touch lives with the love of Jesus Christ.

GROW

:

We focus on

Discipleship: belonging, maturing, understanding God's will through His Word.

We

SERVE

: By d

eveloping personal ministry to serve and spiritually empower each other through fellowship, prayer, and encouragement.

And we

PRAISE

: By Drawing close to God in unified worship and praise when we gather and worship together.





LIFE HAS PURPOSE AND YOU'RE IN IT!



The world is broken Romans 3:23

God has the solution John 3:16, Acts 4:11-12

God is calling you

Romans 10:8-13, 2 Corinthians 6:1-2



God will give you the power to change Acts 3:19, Romans 8:29

You can begin again John 3:3-5

God wants to forgive and renew you Acts 2:38; 22:16

God has a purpose for you Ephesians 2:8-10; 4:11-13

Cling to Jesus Christ and live forever

1 John 5:13, Revelation 2:10



Let us Help You!




Please feel invited to come and worship God with us, at




Address
912 N. Parker Road - MapQuest
La Feria, TX 78559
956-797-3106 - Phone
956-797-9168 - Fax
Send us a message - E-Mail

Mailing Address
P.O.Box 597
La Feria, TX 78559
956-797-3106 - Phone
956-797-9168 - Fax

Exit from Exp 83 at the La Feria - Hwy 506 exit; from 506 go east one block on frontage Rd, turn right onto North Parker Rd, Church Building 1/2 block on left.