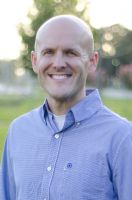 Slate Moore, Minister

863 294 2376
My name is Slate Newman Moore, and I am living the life I've dreamed of...
As a boy growing up in Hamilton, Alabama, I always knew God was with me, and He had plans for me. When I was in High School, my preacher and mentor, Dale Jenkins, called and asked me to preach in his place.
So, I did, and that's when I knew what I wanted to do with my life.
I met my wife, Julie Fears, at Maywood Christian Camp soon after that and knew then that's who I would be spending my life of ministry with! She and I both had and still have the same spiritual desires and passions. Our goals and lifelong dreams are to seek and save as many people as God will allow us, until He calls us home. Julie and I married June 1, 1995, and are the proud parents of five beautiful children. Gabriel, who is already waiting for us in heaven, Lena, 14, Leisel, 12, Charleston, 9, and Shepherd, 4, Which we are homeschooling. We enjoy being together as a family, studying God's Word, walking the neighborhood, staying up watching old movies, taking road trips, watching Alabama football at Nana and Papa's, playing ball in the yard, and all the other fun stuff we get into
---
Services
Morning Worship
Sunday - 10:30 AM
---
Evening Worship
Sunday - 6:00 PM
---
Evening Worship
Wednesday - 6:30 PM
Calendar
December 2023

S
M
T
W
T
F
S
1
2
3
4
5
6
7
8
9
10
11
12
13
14
15
16
17
18
19
20
21
22
23
24
25
26
27
28
29
30
31
There are no events on this day
There are no events on this day
There are no events on this day
There are no events on this day
There are no events on this day
There are no events on this day
There are no events on this day
There are no events on this day
There are no events on this day
There are no events on this day
There are no events on this day
There are no events on this day
There are no events on this day
There are no events on this day
There are no events on this day
There are no events on this day
There are no events on this day
There are no events on this day
There are no events on this day
There are no events on this day
There are no events on this day
There are no events on this day
There are no events on this day
There are no events on this day
There are no events on this day
There are no events on this day
There are no events on this day
There are no events on this day
There are no events on this day
There are no events on this day
There are no events on this day
---