Links
---
INTERACTIVE BIBLE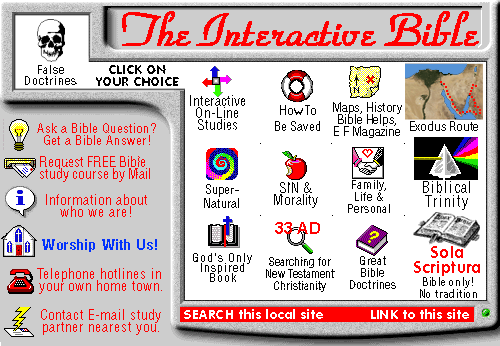 ---
CHURCHES OF CHRIST IN ALABAMA
---
BIBLE STUDY TOOLS
---
WHAT DO THE SCRIPTURES SAY?
A question and answer television program broadcast over KAZT-TV Channel 7, in Prescott, Arizona, to over 3,000,000 homes on Sundays.
---
GOSPEL ADVOCATE
Gospel Advocate Bookstores stock thousands of products for use by Christians - Bibles, books, references, software, a cappella CDs, and more. We also carry the items you are likely to need in your local church - everything from Bible-class curriculum to communion trays to baptisteries.
---
CHRISTIAN LIBRARY
BIBLE STUDY MATERIAL
---
BIBLE STUDY LESSONS
---
Huntsville Inner City church of Christ
Minister Timmy Smith

tim@mayfair.org
---
FARRIS DRIVE CHURCH OF CHRIST
---
WEST HUNTSVILLE CHURCH OF CHRIST
---
Northwest Church of Christ
---
Calendar
August 2018

S
M
T
W
T
F
S
1
2
3
4
5
6
7
8
9
10
11
12
13
14
15
16
17
18
19
20
21
22
23
24
25
26
27
28
29
30
31
There are no events on this day
There are no events on this day
There are no events on this day
There are no events on this day
8/5/2018
7:50AM - 8:00AM RADIO PROGRAM WZZA 1410 AM
---
10:00AM - 10:50AM BIBLE CLASS
---
11:00AM - 12:15PM MORNING WORSHIP
---
1:30PM - 2:30PM EVENING WORSHIP/BIBLE CLASS

There are no events on this day

There are no events on this day

There are no events on this day

There are no events on this day

There are no events on this day

There are no events on this day

8/12/2018
7:50AM - 8:00AM RADIO PROGRAM WZZA 1410 AM
---
10:00AM - 10:50AM BIBLE CLASS
---
11:00AM - 12:15PM MORNING WORSHIP
---
1:30PM - 2:30PM EVENING WORSHIP/BIBLE CLASS

There are no events on this day

There are no events on this day

There are no events on this day

There are no events on this day

There are no events on this day

There are no events on this day

8/19/2018
7:50AM - 8:00AM RADIO PROGRAM WZZA 1410 AM
---
10:00AM - 10:50AM BIBLE CLASS
---
11:00AM - 12:15PM MORNING WORSHIP
---
1:30PM - 2:30PM EVENING WORSHIP/BIBLE CLASS

There are no events on this day

There are no events on this day

There are no events on this day

There are no events on this day

There are no events on this day

There are no events on this day

8/26/2018
7:50AM - 8:00AM RADIO PROGRAM WZZA 1410 AM
---
10:00AM - 10:50AM BIBLE CLASS
---
11:00AM - 12:15PM MORNING WORSHIP
---
1:30PM - 2:30PM EVENING WORSHIP/BIBLE CLASS

There are no events on this day

There are no events on this day

There are no events on this day

There are no events on this day

There are no events on this day
STAFF

Charles Lovejoy
Preacher
More >>
---