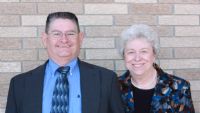 Travis Huffman, Preacher

Travis Huffman was born in Magnolia, Arkansas and moved to Ft. Smith, Arkansas while he was in Jr High school. He met Linda in Ft. Smith while they were co-workers at Krogers. They were married on November 20, 1969. Travis and Linda have two grown children and two grandchildren.
Travis a Viet Nam veteran, retired from the US Army in 1995. He is a graduate of White's Ferry School of Preaching and received his BS degree from Sunset International Bible Institute. He became the Pulpit Minister for the Calera congregation in the summer of 2007.