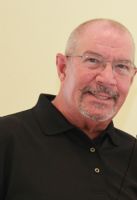 Tom Tate, Minister

815-939-9001
Send a message
As preaching minister of the Bourbonnais church of Christ, it is a pleasure for me to welcome you to our church web site.
In John 17:3 Jesus gives us HIS definition of eternal Life:
"Now this is eternal life; that they may know you, the only true God, and Jesus Christ, whom you have sent". NIV
In John 10:10 Jesus said;
The thief comes only to kill and destroy; I have come that they may have life, and have it to the full." NIV
Eternal life is meant to be MUCH MORE than going to heaven when I die; It's living life to the full RIGHT NOW by have a deep, living, real, personal relationship with the only true God, and Jesus Christ whom He has sent.
That is what we seek for everyone here at the Bourbonnais church of Christ.
When I came here in 1990, I knew that I had found a home. The Bourbonnais church of Christ is a joyous, warm, sincere body of believers who open their arms to lovingly embrace God's family.
I have seen God's transforming power as we have labored together to expand His Kingdom and to "SEEK, SERVE & SHARE CHRIST in the greater Kankakee River Valley area..
And I know that we are a people committed to celebrating Jesus Christ, His life, death, resurrection and triumph over sin so that, by His grace, we can be saved.
Our church is a family that seeks to be found faithful as God's people. We come from all parts of the county and beyond and from many different walks of life. Although we are diverse in backgrounds, we share a very strong common bond with our faith in our Lord and Savior, Jesus the Christ. We take seriously His teaching and seek to practice our faith each day in our church, in our homes and in the work place.
If we can minister to you or with you, please contact us. If you have any questions that cannot be answered from the website, don't hesitate to e-mail me at tomatchurch@gmail.comor call (815-939-9001).