Upcoming Events
Check this page to see the events and activities being planned you might want to be a part of.
Subscribe to this news page via e-mail here -
Subscribe
Congregational Breakfast
3/25/2018
Make your plans to be here in the Fellowship Hall at 8:30 on Sunday Morning, march 25th. We will enjoy a congregational breakfast together prior to our morning Bible Study and Worship. This is just one of the many activities that help to strengthen the ties that bind us together in love.
More>>
---
60th Anniversary - Come and Join Us!
5/4/2018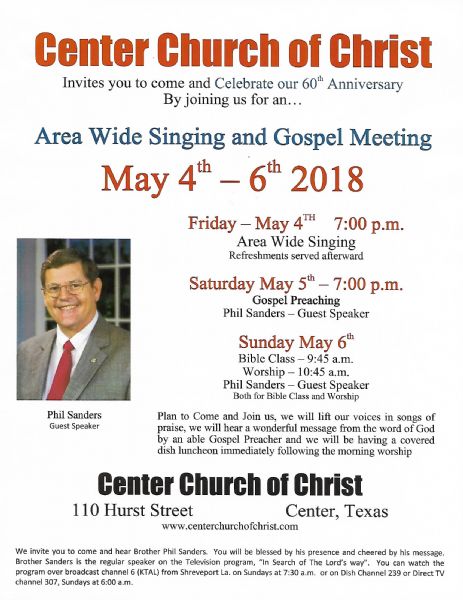 More>>
---
60th Anniversary Celebration
5/6/2018
Plan to join us the weekend of May 4th, 5th and 6th. This will be the 60th anniversary of the Center Church of Christ meeting in the building on Hurst Street. We have a full weekend of activities with a singing on Friday night (May 4th) and then preaching on Saturday night and Sunday Morning with our guest speaker being Phil Sanders, the speaker on the nationally broadcast program "In Search of the Lord's Way".
More>>
---
Calendar
July 2022

S
M
T
W
T
F
S
1
2
3
4
5
6
7
8
9
10
11
12
13
14
15
16
17
18
19
20
21
22
23
24
25
26
27
28
29
30
31
There are no events on this day
There are no events on this day
There are no events on this day
There are no events on this day
There are no events on this day
There are no events on this day
There are no events on this day
There are no events on this day
There are no events on this day
There are no events on this day
There are no events on this day
There are no events on this day
There are no events on this day
There are no events on this day
There are no events on this day
There are no events on this day
There are no events on this day
There are no events on this day
There are no events on this day
There are no events on this day
There are no events on this day
There are no events on this day
There are no events on this day
There are no events on this day
There are no events on this day
There are no events on this day
There are no events on this day
There are no events on this day
There are no events on this day
There are no events on this day
There are no events on this day