Upcoming Events
Check this page to see the events and activities being planned you might want to be a part of.
Subscribe to this news page via e-mail here -
Subscribe
ANNUAL FRIENDS AND FAMILY DAY!
9/12/2021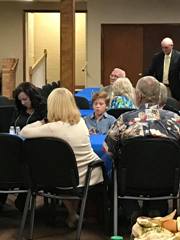 Join us for Bible Study and Worship on Sunday, September 12, 2021. This is our annual "FRIENDS AND FAMILY DAY" and we want you to plan to be here for Worship and stay for our covered dish luncheon. Pleas plan to come and join us.
More>>

Send me a reminder

Add this to my calendar
---
Our News Archives
Calendar
September 2023

S
M
T
W
T
F
S
1
2
3
4
5
6
7
8
9
10
11
12
13
14
15
16
17
18
19
20
21
22
23
24
25
26
27
28
29
30
There are no events on this day
There are no events on this day
There are no events on this day
There are no events on this day
There are no events on this day
There are no events on this day
There are no events on this day
There are no events on this day
There are no events on this day
There are no events on this day
There are no events on this day
There are no events on this day
There are no events on this day
There are no events on this day
There are no events on this day
There are no events on this day
There are no events on this day
There are no events on this day
There are no events on this day
There are no events on this day
There are no events on this day
There are no events on this day
There are no events on this day
There are no events on this day
There are no events on this day
There are no events on this day
There are no events on this day
There are no events on this day
There are no events on this day
There are no events on this day