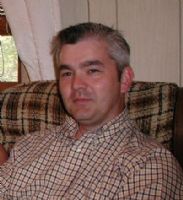 Bob Jackson III, Preacher

(615) 415-2532
Send a message
Bob has been with the congregation here for 9 years. He and his wife Susan were raised by faithful Christian parents and enjoy working with the congregation very much. While preaching is a passion, Bob feels personal evangelism is the best way to grow the kingdom of Christ. If you are interested in a personal Bible study please send Bob a message.
"It would be my honor and privilege to study the Bible together. Personal studies are a great tool to answer any questions you may have as well as develop a friendship! Please contact me with you have any questions so we can meet and chat over some coffee and God's Word." - Bob

"And if it seem evil unto you to serve the LORD, choose you this day whom ye will serve; whether the gods which your fathers served that were on the other side of the flood, or the gods of the Amorites, in whose land ye dwell: but as for me and my house, we will serve the LORD."
---
Calendar
September 2023

S
M
T
W
T
F
S
1
2
3
4
5
6
7
8
9
10
11
12
13
14
15
16
17
18
19
20
21
22
23
24
25
26
27
28
29
30
There are no events on this day
There are no events on this day
There are no events on this day
There are no events on this day
There are no events on this day
There are no events on this day
There are no events on this day
There are no events on this day
There are no events on this day
There are no events on this day
There are no events on this day
There are no events on this day
There are no events on this day
There are no events on this day
There are no events on this day
There are no events on this day
There are no events on this day
There are no events on this day
There are no events on this day
There are no events on this day
There are no events on this day
There are no events on this day
There are no events on this day
There are no events on this day
There are no events on this day
There are no events on this day
There are no events on this day
There are no events on this day
There are no events on this day
There are no events on this day
---